After construction or renovations, a post-construction cleaning was undoubtedly done when you see a finished home, apartment, etc. It is crucial for a project's completion that can't be overlooked.
In this type of clean, clarity about the work details is far more critical than you can imagine. There are some aspects of post-construction cleaning that not everyone is aware of. Suppose you want to create a post-construction cleaning checklist for an upcoming project. In that case, you need to know what is included in post-construction cleaning. We'll be discussing that in detail in this blog!
Determining The Stage Of Cleaning
Many people think of post-construction cleaning as a single job. Still, there are not only multiple cleanings involved but also stages. Your post-construction cleaning checklist can vary depending on it. Here are the types:
Rough Cleanings
It is no surprise that construction jobs can leave a lot of debris behind. They can be an obstacle when advancing on specific tasks such as floor installation. Because of these, post-construction cleaners do a rough clean to remove debris, dirt, and dust from all surfaces. Rough cleanings include chores like:
Sweeping floors
Dusting surfaces
Removing large debris
Washing windows
Final Cleanings
Think about post-construction cleaning, and a final clean automatically comes to your head. It is the most known stage of post-construction cleaning, where the home is thoroughly cleaned and left ready to move in. Here, your post-construction cleaning checklist is essential because the scope of work varies greatly, but it generally entails:
Dusting and wiping surfaces
Floor cleaning
Cleaning windows and glass
Vacuuming carpet
Removing debris and adhesives
Cleaning cabinets, fixtures, ceiling fans, baseboards, mirrors, etc.
Light Cleanings
Before the final clean, most of the finishes are already in place. Still, the contractors have to review the site for any work left. Slight changes are made as needed, like changing a fixture. When that happens, things can get messy again, but not like they did when they freshly finished the project. After the walkthrough, a series of light cleanings need to be done. Note that light cleanings aren't included in the final clean's price.
Defining the scope of work through your post-construction cleaning checklist is also essential at this stage. The typical tasks involved light cleanings are:
Mopping floors
Carpet vacuuming
Removing dust
Cleaning fingerprints, feet marks, stains, etc.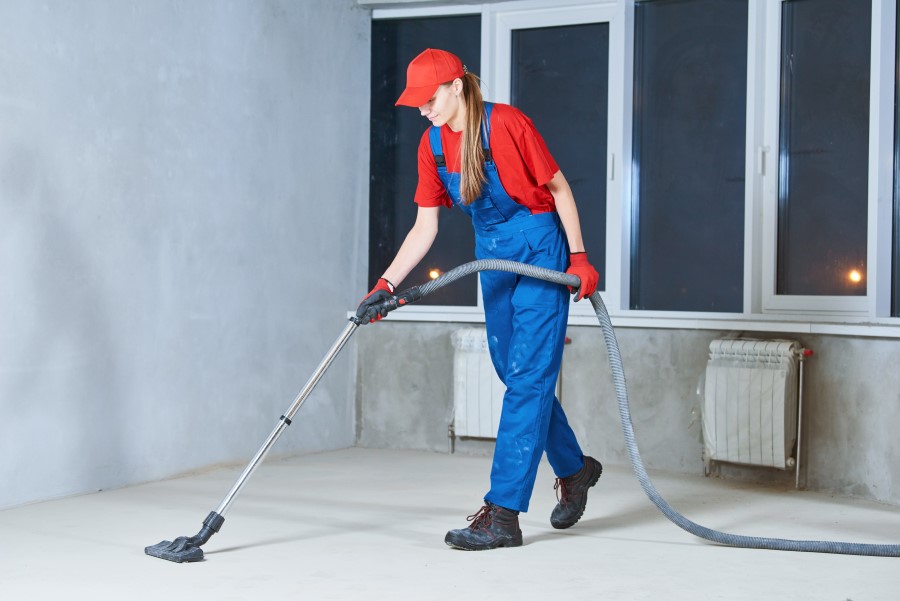 Making A Post-Construction Cleaning Checklist
A post-construction cleaning checklist will dictate everything required for the cleaning job. It helps make sure everything is covered. Now that you know more about what is included in post-construction cleaning, you can make a post-construction cleaning checklist with these easy steps:
Divide your checklist by each post-construction cleaning stage.
Go over the cleaning tasks for each area (kitchen, bathroom, and so on).
Make specifications about special services you need, such as exterior window cleaning. (These type of services often has an additional cost, so it's good to settle that for an accurate estimate)
Who To Call For Post-Construction Cleaning?
You are now ready to make your post-construction cleaning checklist, but you also have to consider who will be doing the cleaning. Post-construction cleaning is a complex job that can require a lot of time, effort, and resources to accomplish, but it is necessary.
For it, you want to recur to professional post-construction cleaning services through the right cleaning company. In the Grand Rapids and west area, at West Michigan Janitorial, we offer our five decades of expertise at affordable prices in post-construction cleaning services. Request a quote today!