What Is Included In Office Cleaning? Office Cleaning Checklist
There seem to be endless tasks for office cleaning that when you hire a cleaning company to do them, you may be curious, "Is what they offer accurate to my needs?" As a cleaning company, we are constantly trying to meet our client's demands, and we know you are also worried about that.
Each cleaning company is different, but some office cleaning tasks are necessary. Picture them as the blueprint you can adjust depending on the type of facility, budget, and other peculiarities. In this blogpost, we show you everything that a general office cleaning must include to help you create a tailored office cleaning checklist later.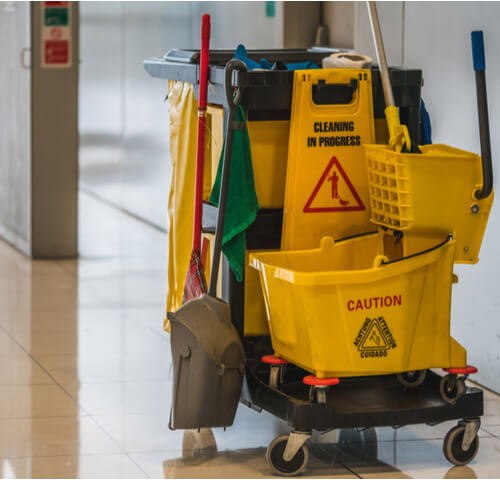 Office Cleaning Tasks & Frequency
If you want your office cleaning to be complete, there are two main factors you can't overlook: tasks and frequency. Based on that, we show you every chore included in office cleaning depending on its frequency:
Daily
In an office building, there are people present almost daily, and it's not surprising to see it get dirty and cluttered very quickly. Due to this, specific office cleaning tasks have to be performed daily. These are typically general tasks that include dusting and mopping since floors, desks, and other surfaces are prone to getting dusty. Routine office cleaning also contemplates surface cleaning in high-touch areas where germs, contaminants, and dirt accumulate constantly.
Disinfection is also an integral part of office cleaning, and it is vital for medical office cleaning, for instance. The best practice for office building cleaning is to follow with disinfection, in the case of floors, high-touch surfaces, restrooms, and more. Disinfection isn't accurate if the surfaces are dirty, so it is done exclusively after general cleaning.
Other daily office cleaning tasks include:
Emptying garbage bins
Clean glass surfaces
Cleaning restrooms
Restocking consumables (toilet paper, kitchen towels, soap, etc.)
Weekly
Other office cleaning tasks don't have to be rigorously performed each day but must be done frequently. These generally include floor care chores such as vacuuming. Vacuuming in certain areas is done 2 to 3 times a week, or weekly along with the entire office cleaning. Polishing floors, carpet vacuuming, scrubbing, and spot cleaning are other weekly office cleaning tasks.
Monthly
Office cleaning can't be too detailed daily, especially when there are many areas to cover. Still, deep cleaning is required once in a while and anything left out of daily and weekly cleaning.
For instance, furniture cleaning is generally left to be done monthly. It includes both vacuumings if applied and disinfection.
Hard-to-reach surfaces like high ceiling fans or high areas are often left out of daily dusting. Still, because they accumulate a lot of dust and even spider webs, deep cleaning high ceilings need to happen once in a while.
Vent cleaning is another monthly office cleaning task crucial for improved indoor air quality.
You can also use your scheduled monthly deep cleaning with specialized services such as detailed carpet cleaning, interior and exterior window cleaning, and even high-ceiling cleaning.
Managing Your Cleaning Checklist & Schedule
If you want to cover every office cleaning task you require, it is crucial to set an office cleaning checklist or plan and schedule. It combines both the functions and the frequency with which they must be performed. These two things are what we prioritize at West Michigan Janitorial. We cover everything in office cleaning, provide customized cleaning plans for all types of facilities, and attend 24/7. Don't hesitate to contact us!